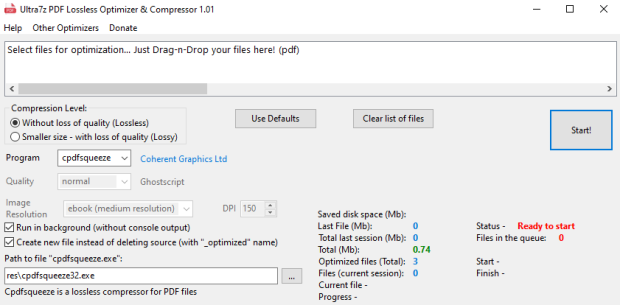 Optimize and convert your PDF files to smaller ones (up to 5-20% lossless and 50-200% lossy)! Full compatible with original PDF format. It uses programs Cpdfsqueeze, Pdfsizeopt and Ghostscript. Batch processing of files (drag-n-drop). Reduce the size of your PDF files in one click without quality loss! Program optimizes your file to new one with «_optimized» name ending (source file will remain intact). Losslessly squeeze PDF files to reduce their size.

Features:
— Reduce the size of PDF files.
— Full compatible with original PDF format.
— Supported formats: PDF.
— You can set «Run in background (without console output)» or uncheck it for manual process control.
Image resolution (for lossy mode):
— screen (low resolution);
— ebook (medium resolution);
— printer (print optimized);
— prepress (prepress optimized).
DPI from 50 to 600.
Programs:
Cpdfsqueeze (Copyright Coherent Graphics Ltd) — https://www.coherentpdf.com
Pdfsizeopt — https://github.com/pts/pdfsizeopt
Ghostscript — https://www.ghostscript.com
Cpdfsqueeze is a lossless compressor for PDF files, which works by rearranging and coalescing content within the file. Very fast!
Pdfsizeopt is a program for converting large PDF files to small ones. If the input PDF has many images or large images, pdfsizeopt can be very slow. Pdfsizeopt can use the following external tools to make images in embedded PDF files smaller: sam2p, jbig2, pngout.
Ghostscript is an interpreter for the PostScript language and PDF files. It has been under active development for over 30 years and has been ported to several different systems during this time. Ghostscript consists of a PostScript interpreter layer and a graphics library.
Run only 1 active instance of the program!
Current file has its own status in the list: «running», «done» and «saved space».
Full stats:
1. Number of optimized files (total and current session).
2. Files in the queue (quantity).
3. Saved disk space (Mb) total and for each file in the list.
(You need to save files «res\size.txt» and «res\numbers.txt» before updating, if you want to save the overall statistics («Total»)).
You can specify the path to the file «cpdfsqueeze.exe» manually in a separate form.
Please send any bugs and requests to maxcompres[email protected] whith subject «Ultra7z PDF Lossless Optimizer»
It' free for commercial and non-commercial use!
If you like my program and you want help improve it, you can help me (donate) here.
Icon made by Freepik from Flaticon.com
https://www.flaticon.com/authors/freepik
History:
2021-09-19 — 1.01
— first release.
Download Ultra7z PDF Lossless Optimizer & Compressor 1.01 (English) (38 Mb):
Download here (38 Mb)
Mirror 1
Mirror 2
Mirror 3