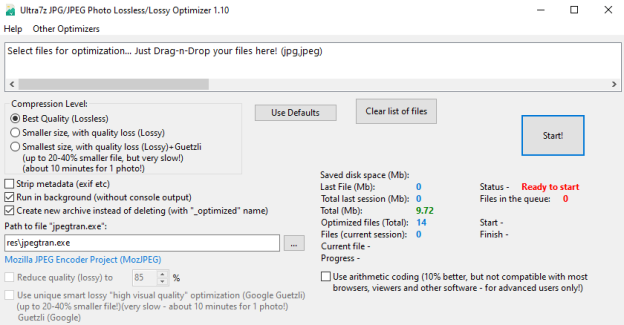 Optimize and convert your pictures and photos JPG, JPEG to smaller JPG files (up to 10-20%) lossless! Full compatible with original JPEG format. High compression ratio — usually better than your programs / photo camera or smartphone. It uses program «jpegtran.exe» from MozJPEG. Batch processing of files (drag-n-drop). Reduce the size of your image files in one click without quality loss! Program optimizes your file to new one with «_optimized» name ending (source file will remain intact).

Features:
— Full compatible with original JPG format
— High compression ratio — usually better than your programs / photo camera or smartphone.
— Supported formats: JPG, JPEG (photos, pictures, images etc…)
— Option «Strip metadata (exif etc…)».
— You can set «Run in background (without console output)» or uncheck it for manual process control.
— Option for lossy compression.
— Option for Guetzli (20-30% better, but very slow).
— Option for arithmetic coding (10% better, for advanced users only!)
Run only 1 active instance of the program!
Current file has its own status in the list: «running», «done» and «saved space».
Full stats:
1. Number of optimized files (total and current session).
2. Files in the queue (quantity).
3. Saved disk space (Mb) total and for each file in the list.
(You need to save files «res\size.txt» and «res\numbers.txt» before updating, if you want to save the overall statistics («Total»)).
You can specify the path to the file «jpegtran.exe» manually in a separate form.
MozJPEG reduces file sizes of JPEG images while retaining quality and compatibility with the vast majority of the world's deployed decoders. MozJPEG is based on libjpeg-turbo. Progressive encoding with «jpegrescan» optimization. It can be applied to any JPEG file (with jpegtran) to losslessly reduce file size.
Progressive images. Is a technique to smartly load the jpeg images of your app by demand, using small placeholders while the original image is being lazy loaded. Optimize Huffman table (smaller file). DC scan optimization. Trellis optimization of DC coefficients. Use integer DCT method. Reducing compression artifacts for text on white background and better quality for high-resolution images.
More info about MozJPEG here
Guetzli is a JPEG encoder that aims for excellent compression density at high visual quality. Guetzli is a freely licensed JPEG encoder developed at Google Research Europe in Zürich, Switzerland by Jyrki Alakujala, Robert Obryk, and Zoltán Szabadka. Guetzli-generated images are typically 20-30% smaller than images of equivalent quality generated by libjpeg. Note that Guetzli is designed to work on high quality images. You should always prefer providing uncompressed input images (e.g. that haven't been already compressed with any JPEG encoders, including Guetzli). While it will work on other images too, results will be poorer.
More info about Guetzli here
JPEG arithmetic coding.
It can be used as a replacement for Huffman coding in the final step of JPEG compression. And it is more effective and the files using arithmetic coding are a bit smaller. Between 5% and 12%. The sad thing is that the JPEG standard had this option, but nobody dared to use it due to software patents and the previous disaster with GIFs. Three years ago the patent expired and the standard JPEG library included the long abandoned option to use arithmetic coding.
Please send any bugs and requests to maxcompres[email protected] whith subject «Ultra7z JPG Lossless Optimizer»
It' free for commercial and non-commercial use!
If you like my program and you want help improve it, you can help me (donate) here.
Icon made by icon king from www.freeicons.io
https://www.freeicons.io/profile/3
History:
2020-07-11 — 1.11
— Option copy metadata for Guetzli (exif etc).
— Guetzli now works with any jpg files.
2020-07-04
Ultra7z JPG/JPEG Photo Lossless/Lossy Optimizer 1.10
— Option for lossy compression.
— Option for Guetzli (20-30% better, but very slow).
— Option for arithmetic coding (10% better, for advanced users only!)
2020-06-21
Ultra7z JPG Lossless Optimizer 1.01
— first release
Download Ultra7z JPG Lossless Optimizer 1.11 (3 Mb):
Download here (3 mb)
Mirror 1
Mirror 2
Mirror 3