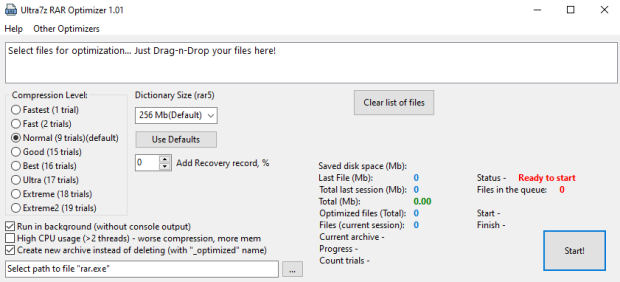 Optimize and convert your RAR to smaller RAR archives! Auto switch PPMD/DELTA/AUDIO/EXE/RGB/RAR4/RAR5/standard during creation RAR-archives. Full compatible with original RAR format. High compression ratio — usually better than WinRAR original. Batch processing of archives (drag-n-drop). Fast and Ultra modes for repacking! Reduce the size of your old and new archives in one click! Save space on your computer or cloud storage, and don't overpay for storing your files! Support for recovery record.

Ultra7z RAR Optimizer 1.03 (c) 2020-2021
Use it carefully!
Please verify content of each archive.
Run only 1 active instance of the program!
How does it work?
When creating an archive in WinRAR or any other program, you can select only 1 compression algorithm for all files added at a time. Although the program provides several of them. Different algorithms are more effective for different types of files. For example, texts are better compressed using PPMD, but binary files are EXE-compression, uncompressed audio files (wav) or images (bmp) need a DELTA filter, and so on.
Ultra7z RAR Optimizer repacks such an archive using all possible compression algorithms, trying (sorting) different algorithms for each file type (there is a selection by file extension). At the end, it creates the smallest possible archive size (i.e. it optimizes the original archive, the content does not change!). More than 19 variants of compression! Also Optimizer compares RAR4 and RAR5 and selects the best variant. This is why it is quite a long process (several times longer than simply creating an archive), but it will not affect the speed of unpacking the archive, it will still be very fast. The compression gain can be up to 10-20% for certain types of files! If the optimized archive is the same size as the original one or larger, the program will leave the original archive unchanged, i.e. you will not lose anything in size in any case.
For daily use, I recommend the «Normal» mode, it is fast enough and gives good results. For better compression, use the «good» or «best» modes. And if you are ready to wait longer, then «ultra». The «Extreme» and «Extreme2» modes can be selected if the archive size is small enough (up to 10-50 MB), or if you want to get maximum compression despite a fairly long repacking process. If you have more than 4 GB of RAM, you can increase the size of the dictionary to 512 MB and higher, which can further improve compression.
Program optimizes your file to new one with «_optimized» name ending (source file will remain intact).
Features:
— Auto switch PPMD/DELTA/AUDIO/EXE/RGB/RAR4/RAR5/standard during creation RAR-archives.
— Full compatible with original RAR format.
— High compression ratio — usually better than WinRAR original.
— Supported formats: RAR (all versions).
— Support for recovery record.
— You can set «High CPU usage (>2 threads)» for maximum perfomance or uncheck it for low CPU usage.
— You can set «Run in background (without console output)» or uncheck it for manual process control.
Current archive has its own status in the list: «running», «done» and «saved space».
Full stats:
1. Number of optimized files (total and current session).
2. Files in the queue (quantity).
3. Saved disk space (Mb) total and for each archive in the list.
(You need to save files «res\size.txt» and «res\numbers.txt» before updating, if you want to save the overall statistics («Total»)).
The program automatically determines the path to the WinRAR installed in the system. Or you can specify the path to the file «rar.exe» manually in a separate form.
It is a freeware compressor for RAR archives!
It' free for commercial and non-commercial use!
If you like my program and you want help improve it, you can help me (donate) here.
Contact me at [email protected]
History:
2021-12-21
Ultra7z RAR Optimizer 1.03
— Improved compression of large archives with many file types.
— Improved compression in some cases.
— Deleting temp files after each iteration (instead of deleting at the end).
2021-04-18 — 1.02
— Added option «Save identical files as references».
— Added option «Store symbolic links as links».
— Added option «Store hard links as links».
— Added % in statistics.
— Added time for each archive from the list.
— Added horisontal scroll in list of files.
— Added «Wait…» on the button «Start» after click on it.
— Improved ppmd compression in extreme2 mode.
— Copy original archive if result is greater.
— Improved handling of non-standard file names (utf-8)
2020-06-07 — 1.01
— first release
Download Ultra7z RAR Optimizer 1.03 (3 Mb):
Download here (3 mb)
Mirror 1
Mirror 2
Mirror 3